Las Ramblas Cork Bar
The Hotel Contessa is located on San Antonio's Riverwalk, which is one of the most romantic spots in the city. La Ramblas Restaurant and Cork Bar is situated in the hotel's atrium, and features a sophisticated list of wines, beers, spirits, and cocktails. While the restaurant is open for a formal breakfast, lunch, and dinner crowd, diners may enjoy a casual bite at the Cork Bar.
For a refreshing sip, try the Thai Basil Margarita, or enjoy their smooth house wine. Sangria Alegre, also known as happy hour, is held each day from 4 to 7pm. Reverse happy hour is each night from 10 to 11pm -- perfect for a nightcap.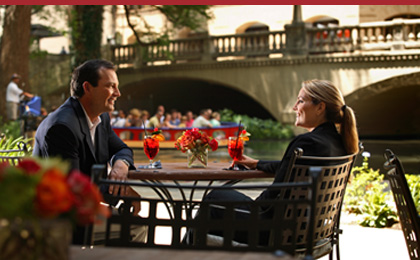 Hotel Contessa
306 W Market St
San Antonio, TX 78288
229-9222
www.thehotelcontessa.com