Zinc Bistro and Wine Bar
Zinc Wine Bar sits just off of the Riverwalk, and offers an array of wines, spirits, and bubbly from the far corners of the globe. The atmosphere is casual and intimate, with rich hardwood floors inside, a lamp lit stone courtyard with Koi pond outside, and white table cloths all around. Stop by for a cocktail, like the Midori Mimosa, or sample from their seemingly endless list of wines that travel to San Antonio from as nearby as the Texas Hill Country to as far away as New Zealand.
Zinc is just as well-known for their food as they are for their wines. Get your tastebuds warmed up with fresh guacamole prepared right at your table, or an order of truffle parmesan fries. Let the entrees bring out the flavors of the wines -- you'll find that pizza doesn't just go well with wines from Italy! Or sip along with something sweet, like the chocolat coconut silk pie or vanilla bean creme brulee. Zinc also hosts private events in its cellar, courtyard, and semi-private reception area for special occasions.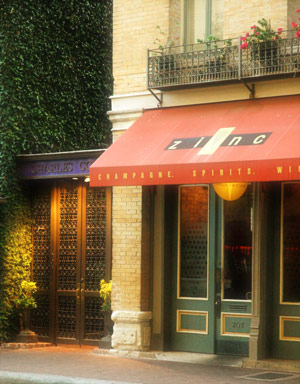 207 N Presa St
San Antonio, TX 78205
(210) 224-2900
www.zincwine.com